Le lancement de l'Édition 2014 de Fantasia approche!  Voici le premier communiqué de presse de Fantasia de la saison qui dévoile une première vague de films qui seront projetés cette année. Parmi eux, j'ai sélectionné cinq films à surveiller,
cliquez ici pour voir lesquels
.
Montreal, June 19, 2014 – The 
18th
 annual 
Fantasia International Film Festival 
is gearing up to take Montreal by storm with three weeks of inspiration and excitement 
starting July 17 until August 5, 2014.
Our full 2014 lineup of programming and special events will be revealed shortly, but in the meantime, here's an early First Wave Announcement of several selected highlights and info to whet your appetite.
UNVEILING OUR 2014 POSTER ART: FANTASIA PAYS TRIBUTE TO THREE LEGENDARY FIGURES OF THE FANTASTIC
On May 7 of last year, Ray Harryhausen, filmmaker and stop-motion special effects pioneer, passed away at the age of 92. Mr. Harryhausen created some of the most beloved and innovative fantastic film imagery of all time in such classics as THE 7th VOYAGE OF SINBAD and JASON AND THE ARGONAUTS. He was the last surviving member of a trio of equally famous friends who met in the late 1930s at a science-fiction association, and went on to become the founding fathers of modern-day genre invention and appreciation. The other two figures were renowned author Ray Bradbury (FARENHEIT 451, THE ILLUSTRATED MAN, SOMETHING WICKED THIS WAY COMES) and journalist Forrest J. Ackerman, editor and principal writer of the groundbreaking American genre film magazine FAMOUS MONSTERS OF FILMLAND and possibly the world's most avid collector of fantasy books and cinema memorabilia. Their friendship evolved over seven decades, in which their affection for each other never diminished as they kept in touch and appeared in their later years at conventions, joyously sharing amazing stories with adoring fans young and old.
Through their work and energy, Harryhausen, Bradbury, and Ackerman have inspired many of the leading figures of genre cinema in recent decades, from George Lucas and Steven Spielberg to James Cameron, John Landis, Peter Jackson, Joe Dante, and Tim Burton. In 2005, Ray Harryhausen was the first recipient of Fantasia's Lifetime Achievement Award.
The poster art is also inspired by an old legend from Québecois folklore — La Chasse Galerie(otherwise known as "the Bewitched Canoe") — in which lumberjacks, far away from their loved ones on New Year's Eve, struck a deal with the devil to provide them with a means of quick transport over a great distance to their families. The devil obliged in providing them with a flying canoe, which he himself piloted. In the background, you can also see the festival's black horse, itself inspired by another local folktale, the legend of the Cheval Noir. Fantasia has adopted the black horse as its emblematic symbol for the prize awarded by the main jury to the best film. We love the idea of fusing Québec folklore with the roots of modern genre creation and appreciation.
Fantasia's 2014 poster art was created by award-winning Quebec illustrator Donald Caron.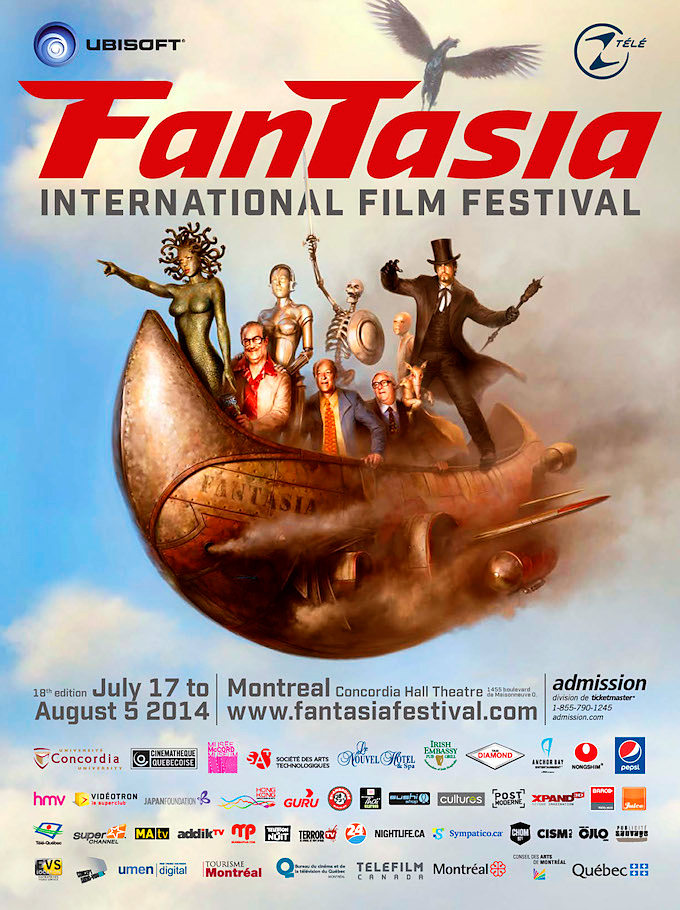 A LIFETIME ACHIEVEMENT AWARD FOR MAMORU OSHII
A towering and truly unique figure in Japanese animation, director Mamoru Oshii will be a recipient of Fantasia's Lifetime Achievement Award. From pioneering OVAs DALLOS and the haunting ANGEL'S EGG, and of course the beloved PATLABOR series, of the 1980s, through the dramatically influential global hit GHOST IN THE SHELL in the mid-'90s, to its award-winning sequel and other powerful, pensive works in the new millennium (SKY CRAWLERS, AVALON), Oshii has consistently strived to bring new ideas and in fact a whole new attitude to anime. With his meticulous and idiosyncratic near-future thrillers and dramas, linked by persistent themes, motifs and concerns, Oshii asserts a complex, deeply thoughtful and decidedly adult sensibility — while maintaining the highest technical standards in the field (and hardly confining his efforts to animation). In seeking a path to call his own, Oshii has blazed a trail for fantastic entertainment worldwide to follow.Mamoru Oshii will be receiving his award on our opening night, July 17, before a special screening of the new HD master of GHOST IN THE SHELL, being re-issued by Manga Entertainment and Anchor Bay Entertainment in celebration of the 25th Anniversary of the original manga's publication. This will be the first time the GITS HD print has been made available outside of Japan, lovingly restored, unadulterated and awe-inspiring in its beauty.
OPENING FILM: JACKY IN THE KINGDOM OF WOMEN (JACKY AU ROYAUME DES FILLES)
Fantasia 2014 will launch with the Canadian premiere of JACKY IN THE KINGDOM OF WOMEN (Jacky au royaume des filles), a sharp political satire from comic book genius Riad Sattouf (LES BEAUX GOSSES) that took the Rotterdam Film Festival by storm.Set in the Democratic Republic of Bubunne where women lead and men are obligated to wear a veil and serve them, this subversive black comedy follows Jacky (Vincent Lacoste), a one-of-a-kind Cinderella, who wishes to marry the powerful and gorgeous Colonel (Charlotte Gainsbourg), daughter of the country's leader (Anémone). You don't think when you're in love, you push on, and sometimes accidentally set off a coup d'état. The provocative and smart JACKY IN THE KINGDOM OF WOMEN couldn't be more timely, urgent or funny.
CENTERPIECE PRESENTATION: GUARDIANS OF THE GALAXY
Fantasia will hold a special screening of the hotly anticipated new instalment in the Marvel Cinematic Universe, starring Chris Pratt, Zoe Saldana, Dave Bautista, and the voice talents of Vin Diesel and Bradley Cooper, directed by none other than James Gunn (SUPER, SLITHER) and presented in dazzling 3D.
ADDITIONAL FIRST WAVE ANNOUNCEMENTS INCLUDE:
AMONG THE LIVING
France   Dir: Alexandre Bustillo, Julien Maury
Leave it to the makers of INSIDE and LIVID to rework STAND BY ME as the horror film Stephen King always knew it could be. A tribute to '80s cinema turned completely on its head, then decapitated. A standout at SXSW and the Brussels Fantastic Film Festival. Canadian Premiere
ANGRY VIDEO GAME NERD: THE MOVIE
USA  Dir: Kevin Finn, James D. Rolfe
He is the enemy of the weak and wasteful, of garbage gameplay and lousy graphics, the one and only Angry Video Game Nerd! James D. Rolfe's longstanding hit web series powers up to its big-screen debut! International Premiere
BOYHOOD
USA  Dir: Richard Linklater
Over a decade ago, Richard Linklater assembled a cast he would film over a dozen years, to tell an utterly authentic tale of American childhood and adolescence.  Many critics already call it one of the year's best films, and so will you. Winner of the Silver Bear at the 2014 Berlin Film Festival and the Lone Star Award at SXSW 2014, this unique coming of age drama will launch the fifth edition of Fantasia's Camera Lucida section. Quebec Premiere
BROS BEFORE HOS
Netherlands Dir: Steffen Haars, Flip Van der Kuil
Following the awful breakup of their parents' marriage, two brothers seal a pact that neither shall ever enter into a serious relationship with a woman. The Netherland's renegade NEW KIDS team returns, still riotous and right on the edge of good taste. International Premiere
CYBERNATURAL
USA Dir: Leo Gabriadze 
On the anniversary of a teen's suicide, the six cyberbullies responsible meet online for a group chat. A seventh, anonymous participant joins them. Told entirely way of a character's computer screen, CYBERNATURAL brilliantly nails the ways in which we communicate and present ourselves online, hitting hard with a new kind of horror for an increasingly connected-yet-disconnected world. Produced by Timur Bekmambetov (WANTED, NIGHTWATCH). World Premiere
CROWS EXPLODE
Japan  Dir: Toshiaki Toyoda
Fists will fly and beatings will abound, but the greatest battles are always in the hearts of the sneering, delinquent punks of the notorious Suzuran All-Boys High School. After Takashi Miike, it's now BLUE SPRING director Toshiaki Toyoda's turn to make a knuckle mark on the CROWS ZERO franchise. North American Premiere
DEALER
France  Dir: Jean Luc Herbulot
Directed with volcanic energy, DEALER is a sturdy thriller that drags its audience full-steam ahead through a Parisian underbelly filled with hoods and thugs, marking the powerful arrival of one of the most promising new voices in French genre cinema. A feature-film baptism filled with noise and fury.  World Premiere
GIOVANNI'S ISLAND
Japan  Dir: Mizuho Nishikubo
A gracefully executed anime from Production I.G, examining the struggles of the Japanese in the immediate aftermath of World War II, from the perspective of a child. As beautiful as it is devastating, GIOVANNI'S ISLAND received a Jury Mention at the prestigious Annecy International Animation Film Festival. Canadian Premiere
THE HARVEST
USA Dir: John McNaughton
A surprising story told in twists, tears and blood, maverick HENRY: PORTRAIT OF A SERIAL KILLER / WILD THINGS filmmaker John McNaughton's long-awaited return stars Samantha Morton, Michael Shannon, Charlie Tahan and Peter Fonda and exists in a disquieting median space between sinister fairy tale and shattering human horror. International Premiere
HAN GONG-JU
South Korea  Dir: Lee Su-jin
A troubled teenage girl flees her past — is she guilty or a victim? A multiple prize winner, notably attaining the Silver Tiger Award at this year's Rotterdam International Film Festival, HAN GONG-JU is a magnificent yet devastating debut feature of incredible narrative virtuosity. Canadian Premiere
THE HUNTRESSES 
South Korea  Dir: Park Jae-hyun 
A trio of daring and dangerous bounty-hunting beauties find themselves in a high-risk, high-stakes game of subterfuge and swordplay in medieval Korea. A rousing and fast-paced action-adventure with a dash of romance and a barge-load of slapstick laughs! International Premiere
I ORIGINS
USA  Dir: Mike Cahill
From the director and star (Brit Marling) of ANOTHER EARTH comes another science fiction drama about a molecular biologist and his partner whose unique experiments may change the nature of society itself. Canadian Premiere
INTO THE STORM
USA  Dir: Steven Quayle
In the span of a single day, the town of Silverton is ravaged by an unprecedented onslaught of tornadoes. The entire town is at the mercy of the erratic and deadly cyclones, even as storm trackers predict the worst is yet to come. Most people seek shelter, while others run towards the vortex, testing how far a storm chaser will go for that once-in-a-lifetime shot. Quebec Premiere
KILLERS
Indonesia/Japan  Dir: The Mo Brothers
Two serial killers. One likes to kill, the other seeks justice. The problem is, the first one is mentoring the latter… Social media will bring a storm of blood over both Tokyo and Jakarta in this shocking yet incredibly smart horror thriller in the vein of THE CHASER and COLD FISH that floored audiences at Sundance. Canadian Premiere
KITE
USA/Mexico  Dir: Ralph Ziman
The controversial and influential anime finally sees a live-action adaptation, stylishly directed by award-winning South African filmmaker Ralph Ziman (JERUSALEMA) and backed by a cast that features Samuel L. Jackson, Callan McAuliffe, and India Eisley. The film succeeds brilliantly in blending the elements that made the original material a mythical piece of art. International Premiere
LIVE
Japan  Dir: Noboru Iguchi
When his mother is kidnapped and a stranger calls, Naoto is thrust into a public triathlon of death. DEAD SUSHI director Noboru Iguchi's running go at the survival-race genre is loveably lurid, super-sanguinary fun. North American Premiere
THE MAN IN THE ORANGE JACKET
Latvia   Dir: Aik Karapetian
A laid-off worker kills his ex-boss in cold blood, and assumes his lifestyle. The good times will be short-lived, however as things are about to take an unexpected turn. In a similar vein than Polanski:s THE TENANT, Armenian filmmaker Aik Karapetian's audacious slasher is this year's most groundbreaking work of dramatic horror.  World Premiere
THE MIDNIGHT SWIM
USA Dir: Sarah Adina Smith
Spirit Lake is unusually deep. No diver has ever managed to find the bottom. When Dr. Amelia Brooks disappears during a deep-water dive, her three daughters travel home. They find themselves unable to let go and become drawn into the mysteries of the lake. A phantasmagoric atmosphere reminiscent of PICNIC AT HANGING ROCK emanates from this brilliant debut feature debut. World Premiere
MISS GRANNY
South Korea  Dir: Hwang Dong-hyeuk 
74-year-old grandmother Oh Mal-soon has been magically transported into the body of her 20-year-old self. Seizing the opportunity to relive a youth she sacrificed in the name of her child, she sets out to explore a world of new possibilities. And it includes K-Pop… Canadian Premiere
MONSTERZ
Japan  Dir: Hideo Nakata
A sinister sociopath with psychic powers squares off against a cheerful everyman with a secret of his own. The 2010 South Korean superhero/horror hybrid HAUNTERS, remade by Japanese cult director Hideo Nakata (RINGU), with stars Tatsuya Fujiwara (SHIELD OF STRAW) and Takayuki Yamada (CROWS ZERO). Canadian Premiere
ONCE UPON A TIME IN SHANGHAI
Hong Kong  Dir: Wong Ching-Po
Opium and kung fu! The glory days of old Shanghai — or are they? Two generations of true kung fu experts collide in the spectacular martial arts feast, with breathtaking choreography by Yuen Woo-Ping and Yuen Cheung-Yan! Canadian Premiere
PREDESTINATION
Australia Dirs:  Michael Spierig, Peter Spierig
Time, place and identity get folded, spindled and mutilated in the mind-bending new film from Australia's Spierig Bros (UNDEAD, DAYBREAKERS),  a noir-tinted sci-fi thriller with a soul, starring Ethan Hawke, Noah Taylor and Sarah Snook. Canadian Premiere
PUZZLE
Japan  Dir: Eisuke Naito
The staff and students at Noriaki Hill High School have been given a game to play, one in which mistakes can be fatal. A giddy, gory brain-twister of a teen survival thriller, in which vengeance is as much a first step as a final solution. North American Premiere
THE RECONSTRUCTION OF WILLIAM ZERO
USA Dir: Dan Bush
A scientist awakens from a coma in the care of his twin brother, but neither may be exactly who they first appear to be. A cinematic jigsaw puzzle that delves into the darker side of science fiction, THE RECONSTRUCTION… marks the return of Dan Bush (2008's THE SIGNAL) and stars Conal Byrne, Amy Seimetz and A.J. Bowen. World Premiere
THE RUN
Malaysia  Dir: Ahmad Idham
A former soldier sets out to avenge his family in this slam-bang Malaysian effort, bursting with spectacular stunts and fights, showcasing Aaron Aziz. THE RUN is an action-packed gem that wants only one thing: to blow your face off. International Premiere
SUBURBAN GOTHIC
USA Dir: Richard Bates Jr
EXCISION director Richard Bates Jr is back with an eccentric comedy/horror that stars Matthew Gray Gubler, Kat Dennings, Ray Wise, Sally Kirkland, Jeffrey Combs and John Waters and riffs on everything from classic supernatural horror and outsider teen comedies to the Hardy Boys and Scooby-Doo. World Premiere
THE SEARCH FOR WENG WENG
Australia/Philippines  Dir: Andrew Leavold
Andrew Leavold documents his unrelenting six-year quest to discover ever more about the extraordinary 2ft 9in tall actor-stuntman Weng Weng, and the weird and wonderful world of 1970s Filipino cinema. North American Premiere
SWEET POOLSIDE
Japan  Dir: Daigo Matsui 
Two swim-team members, a hairless boy and a hirsute girl, discover the pangs and tangles of first love in SWEET POOLSIDE, one of the most astute examination of adolescence to screen in a long time. North American Premiere
THE WHITE STORM
Hong Kong  Dir: Benny Chan
Hopping from Hong Kong to Thailand to Macau, blending hard-hitting action with powerful drama, Benny Chan's vividly stylish THE WHITE STORM is a sprawling, absorbing crime flick in the classic Hong Kong tradition. Canadian Premiere
YASMINE
Brunei Darussalam  Dir: Siti Kamaluddin 
YASMINE is a one-two combo of sports drama and coming of age story in the vein of THE KARATE KID. First time director Siti Kamaluddin, newcomer actress Liyana Yus and veteran action choreographer Chan Man Ching form a winning team in this dynamic feel good film. The cinema of Brunei Darussalam makes a regal entry at Fantasia! North American Premiere
---
The Fantasia International Film Festival takes place in Montreal July 17 – August 5, 2014. For this year's edition and onwards, Fantasia will be returning to the freshly renovated Concordia Hall Cinema as its main base, which now features an even larger screen, new seating and upgraded projection and sound.
The festival's full lineup of screenings and events will be announced on July 10.
For more information, visit us on the web at www.fantasiafestival.com.